NEW LOCATION!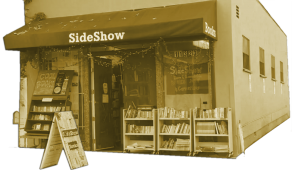 Come visit our new digs!!
Sideshow has moved and expanded: both the scope of its purpose and size of its inventory.  We've maintained the cozy charm of our cherished, original bookstore, and added space for readings, workshops, and events.
More nooks, more hidden treasure, and much-needed quiet outdoor space to read, relax and re-charge.
Indeed, we're beyond the model of the commercial bookstore into a dynamic non-profit social sanctuary for books, book lovers, scholars, writers, artists… everyone!
Now, more than ever, we reachout to our friends and customers to help jumpstart this bigger and more deeply community-oriented Sideshow!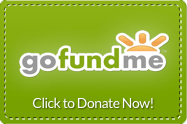 Our new Pico-Robertson-neighborhood space has already started to plan events, such as our upcoming Poetry Night, this Sunday, July 22nd., at 8PM.
Collage and Book-binding classes are being initiated soon.
And our SideShow Summer Cinema Schedule rolls on with al fresco homey against-the-big-wall screenings on the back patio.  Check the schedules both our various film seres GIALLO and HOLLYWOOD'S BIGGEST SLEEPERS:
BIGGEST SLEEPERS SERIES
Weds., July 18th 8:30
STRANGER ON THE THIRD FLOOR (Peter Lorre; Dir. Boris Ingster; 64 min., 1940)
and
SPAWN OF THE NORTH (Dorothy Lamour, Henry Fonda; Dir. Henry Hathaway; 110 min., 1938)
Weds., July 25th  8:30
MR. HOBBS TAKES A VACATION (James Stewart, Maureen O'Hara, Dir. Henry Koster; 116 min., 1962)
Wed., August 1st 8:30
CABIN IN THE SKY (Ethel Waters, Eddie Anderson, Dir. Vincente Minnelli; 98 min.,1943)
Thursday, August 2nd 8:30
TOP HAT (Fred Astaire, Ginger Rogers, Dir. Mark Sandrich; 101 min., 1935 )
Wed., August 8th 8:30
VIVACIOUS LADY (James Stewart, Ginger Rogers;, Dir. George Stevens; 90 min., 1938)
Thursday, August 9th 8:30
THEY LIVE BY NIGHT (Farley Granger, Cathy O'Donnell; Dir. Nicholas Ray; 98 min., 1948)
GIALLO FILM SERIES
Tuesday, July 17, 8:30 pm
THE DESIGNATED VICTIM (Katia Christine, Dir. Maurizio Lucidi, 105 min., 1971)
Tuesday, July 24, 8:30 pm
THE FOX WITH THE VELVET TAIL (Analia  Gade; Dir. Jose Maria Forque; 100 min, 1971)
Tuesday, July 31, 8:30 pm
WHY ARE THOSE STRANGE DROPS OF BLOOD ON JENNIFER'S BODY?  (Edwige Fenech; Dir. Giuliano Carnimeo; 94 min., 1971)
Tuesday, August 7, 8:30
FEMINA RIDENS  (Dagmar Lassander; Dir. Piero Shivazappa; 108 min., 1969)
Tuesday, August 14, 8:30
TO BE ANNOUNCED!
HAPPY BIRTHDAY
ALFRED HITCHCOCK!
(Hitch was born August 13, 1899.  Let's Celebrate!!!)
Wed., August 15th 8:30
NOTORIOUS
(Cary Grant, Ingrid Bergman;  Dir. Alfred Hitchcock, 101 min., 1946)
Thursday, August 16th 8:30
SHADOW OF A DOUBT
(Joseph Cotton, Teresa Wright; Dir. Alfred Hitchcock; 108 min., 1943)
We look forward to moving forward to gather together our wonderful community of like-minded fans, friends and supporters of The Book.
Onward with the mission:
To Preserve and Promote Book Culture in the Age of New Media.