---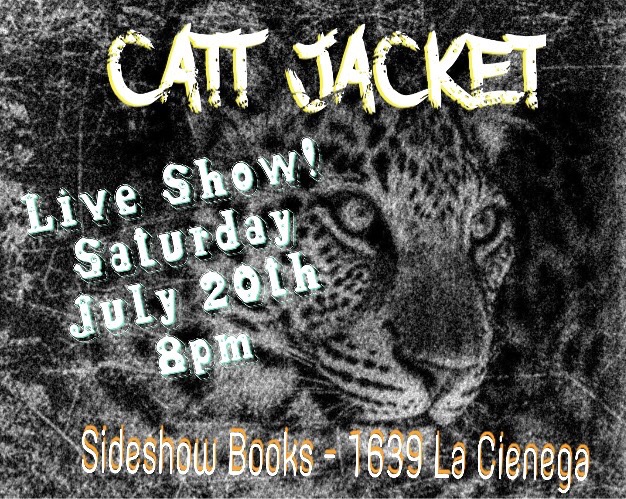 A Summer Night of Music
Saturday, July 20, 8pm
with CATT JACKET at 9:00 PM
and Chris Nash Opening at 8:00 PM
---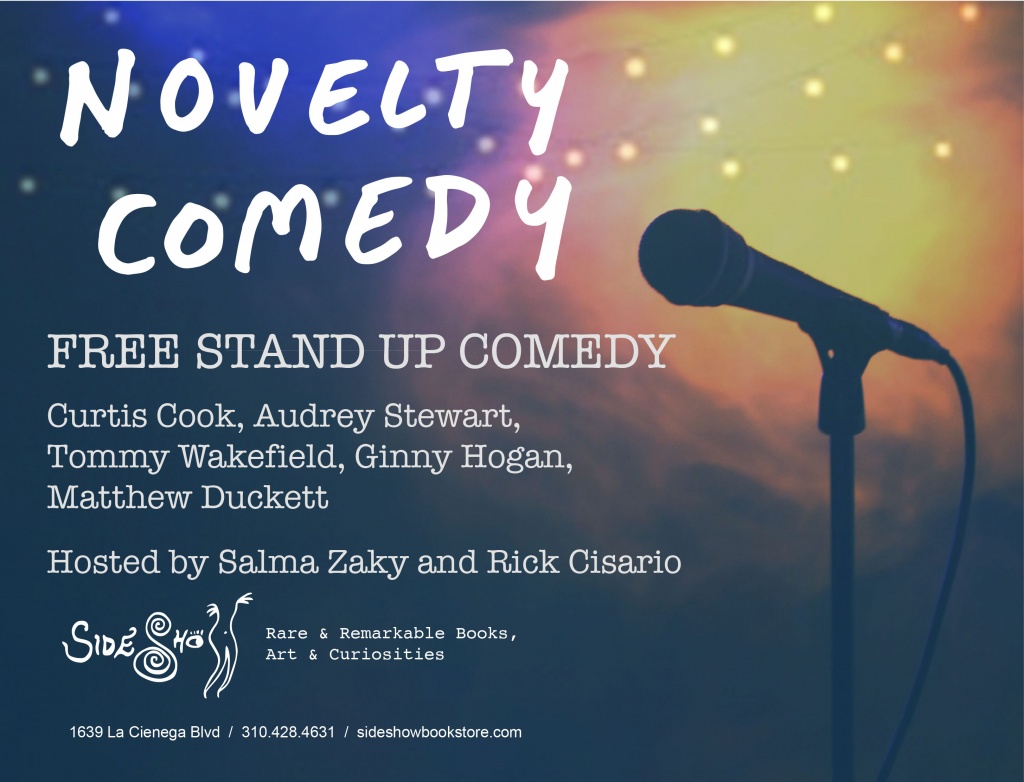 Novelty Comedy Show
Thursday, July 25, 8pm
Featuring Curtis Cook, Audrey Stewart, Tommy Wakefield, Ginny Hogan, and Matthew Duckett
Hosted by Salma Zaky and Rick Cisario
---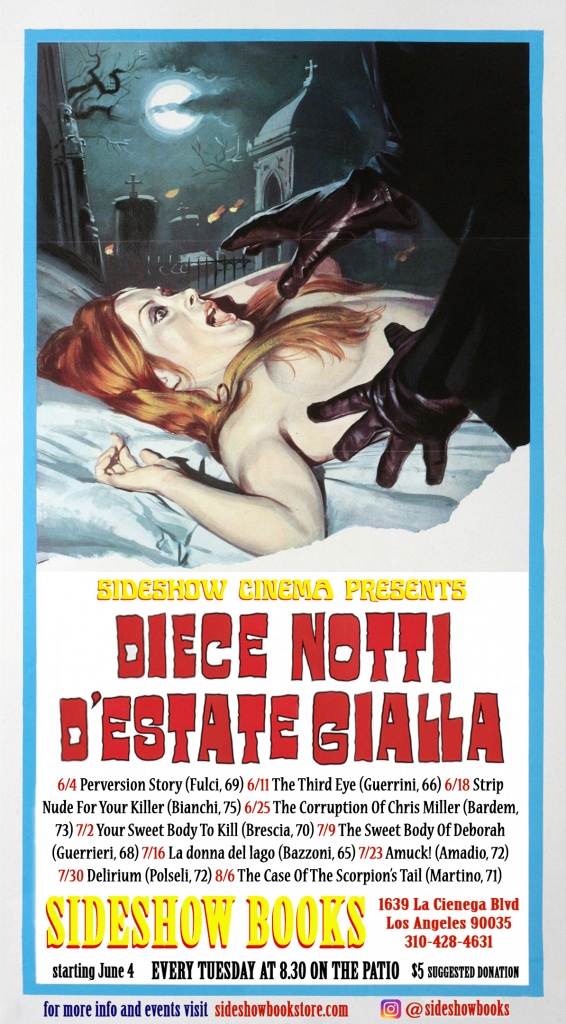 GIALLO (and Gelato) Film Series
Tuesday Evenings June through August, 8:30pm
Gelato provided by Uli at GelateriaUli. Handmade and Local!
For those new to this fabulous cinematic genre, GIALLO is an Italian genre of twisty, sexy, suspense thrillers from the late -1960s and through the late-1970s. The Italian-language word GIALLO means the color yellow, and the genre was so-named after the yellowing pages of the sometimes gruesome crime pulps published from the 1950s – 1980s. For fans of suspenseful, campy, outrageous b-movies, this slate of films will be very satisfying.
Come enjoy al fresca cinema in our cozy backyard theater.
Tuesday, July 16, 8:30
THE POSSESSED (aka BLOODY PIT OF HORROR) (Dir. Luigi Bazzoni, 1965)
Tuesday, Jul 23, 8:30
AMUCK! (Dir. Silvio Amadio, 1972)
Tuesday, Jul 30, 8:30
DELERIUM! (Dir. Renato Polseli, 1972)
Tuesday, August 6, 8:30
THE CASE OF THE SCORPION'S TAIL (Dir. Sergio Martino, 1971)

Other SideShow Cinema films for July, 2019
Wednesday, July 10th, 8:30pm
Classics Considered – Directed by Raoul Walsh
STRAWBERRY BLONDE (James Cagney, Rita Hayworth; 1941, 99 min.)
& HIGH SIERRA (Humphrey Bogart, Ida Lupino; 1941, 100 min.)
Friday, July 12nd, 8:30pm
HAMMER SUMMER
DRACULA HAS RISEN FROM HIS GRAVE (Dir. Freddie Francis, 1968; 92 min.)
Saturday, July 13th, 8:30pm
HAMMER SUMMER
SCARS OF DRACULA (Dir. Roy Ward Baker, 1970; 96 min.)
Thursday, July 18th, 8:30pm
Classics Considered – Directed by Busby Berkeley
FOOTLIGHT PARADE (James Cagney, Joan Bondell; 1933, 104 min.)
& THE GANG'S ALL HERE (Carmen Miranda, Alice Faye; 1943, 103 min.)
Friday, July 19th, 8:30pm
HAMMER SUMMER
ONE THE BUSES (Dir. Henry Booth, 1971; 88 min.)
& HANDS OF THE RIPPER (Dir. Peter Sasdy, 1971; 85 min.)
---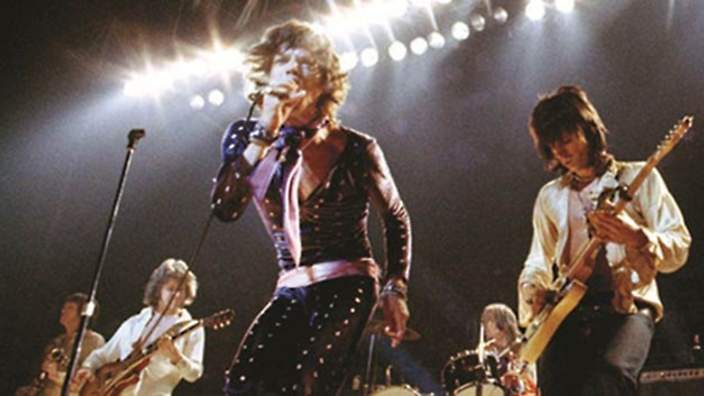 Happy Birthday Mick Jagger!
Friday, July 26
LADIES AND GENTLEMEN,
THE ROLLING STONES screening at 8:30PM & CHARLIE IS MY DARLING at 10:30 PM
---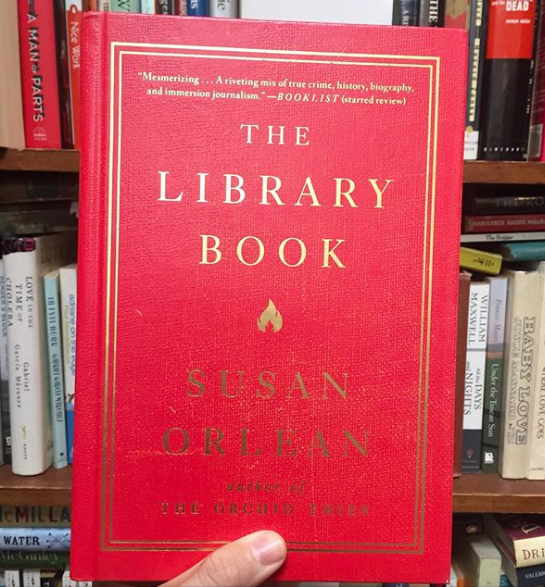 Bookclub Meeting
Wednesday, August 7, 8pm
Join us for a discussion of "The Library Book" by Susan Orlean. Copies available at the store. Please bring snacks to share.
---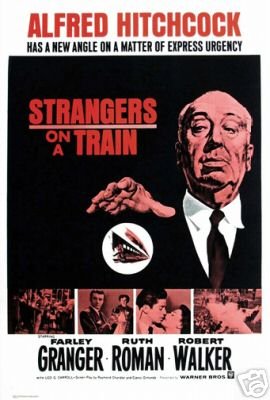 Coming in August…
HAPPY BIRTHDAY ALFRED HITCHCOCK!
Saturday, August 10th 8:30
STRANGERS ON A TRAIN
(Farley Granger, Ruth Roman; Dir. Alfred Hitchcock, 1951)
NOTORIOUS
(Cary Grant, Ingrid Bergman; Dir. Alfred Hitchcock, 1946)
Weds., August 14th 8:30
SHADOW OF A DOUBT
(Joseph Cotton, Teresa Wright; Dir. Alfred Hitchcock, 1943)
FRENZY
(Barry Foster, Barbara Leigh-Hunt; Dir. Alfred Hitchcock, 1972)
---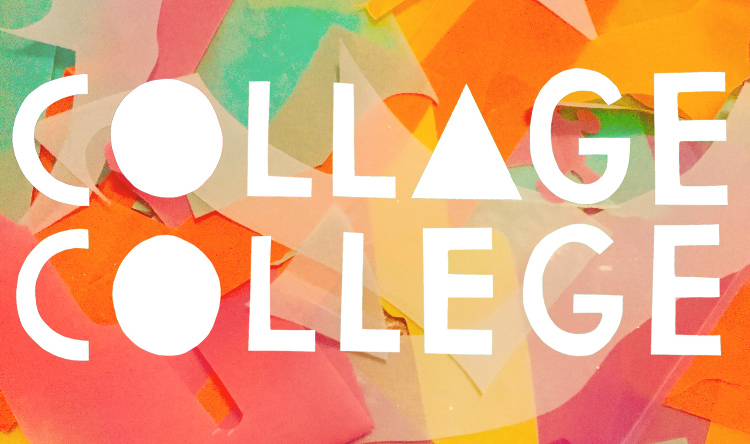 Collage College
Continues every Thursday night at 7:30 providing collage materials, space and music under the guidance of practicing collage artists. Drop by Thursday nights and create something wonderful!
$15 per person – all materials provided.